Yummmmalicious! Absolutely rich and delicious, this Shrimp and Grits recipe is right up there with many of the great restaurants in the Lowcountry!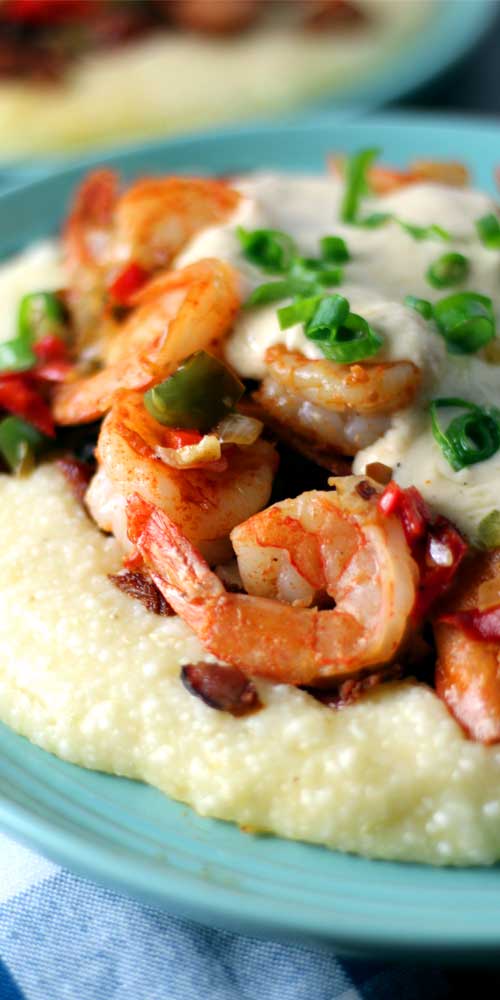 I've been making this recipe for years. Shrimp and grits is a family favorite, especially when it's cold outside, and now is the perfect time.. since it even snowed in Florida and their talking about a Bomb cyclone slamming East Coast.
There are water main breaks all around us for days now. But the most ironic story comes from one of the women that works at the water company's call center.
While calling to see if anyone is scheduled to check on the water main break across the street from our house, the people that work at the water company had to move to a different location. Why? Because their water main broke, and the water came up through the floor at their office, flooding the water company.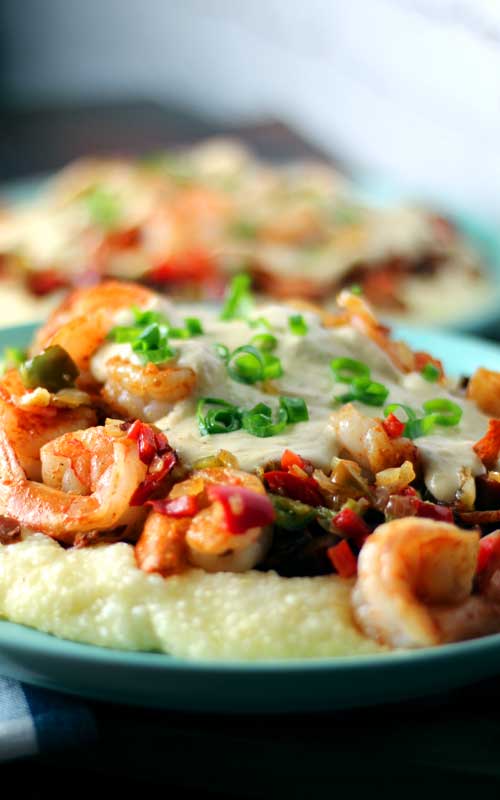 Oh the irony was NOT lost on me. We're not even in the coldest part of the country, we're in St. Louis, smack dab in the center. So how everyone up north deals with this craziness, I don't even know.
So if your somewhere shivering, I wish I could bring you this warm and Yummmmazing Shrimp and Grits to warm your bones. But if you can get a store be sure to pick up everything you need to make this, you won't be sorry.
Don't be intimidated with all the steps. Just do all the prep work first, then tackle the recipe. It is really easy and you can thank me later.
::Update:: So the water company finally made it out, if that's what you want to call it. The water main across the street is no longer leaking. They shut it off (along with the water to my house), marked the ground, and left. This does not bode well…as there are numerous people who have been without water for over a week now. So fingers crossed.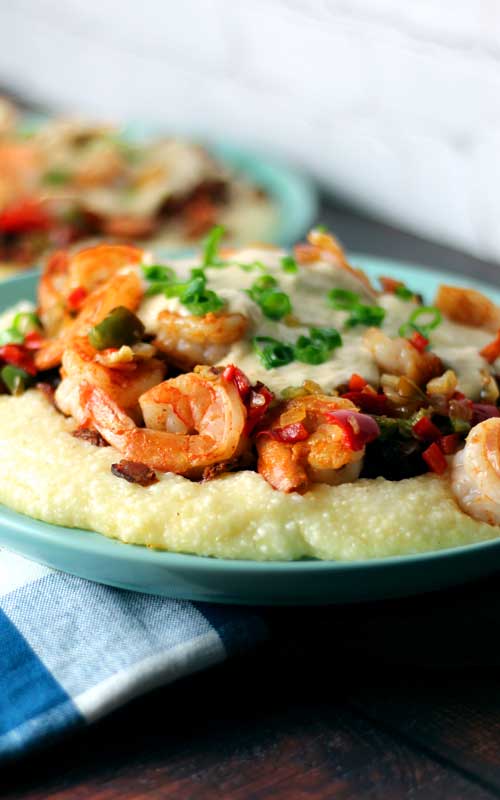 Don't forget to follow along, so you don't miss out! Did you know you can get a notification on your phone now as soon something is published? People are loving this so much, more than the emails clogging up your inbox. If you happened to not accept the notification box earlier…now is a good time to click the small bell in the corner and get signed up!
FOLLOW Sparkles of Yum ON FACEBOOK | PINTEREST | INSTAGRAM | TWITTER FOR ALL OF THE LATEST CONTENT, RECIPES AND UPDATES.
Feel free to join the Sparkles of Yum Recipe Swap Facebook group! A fun place to find and share all of your favorite recipes.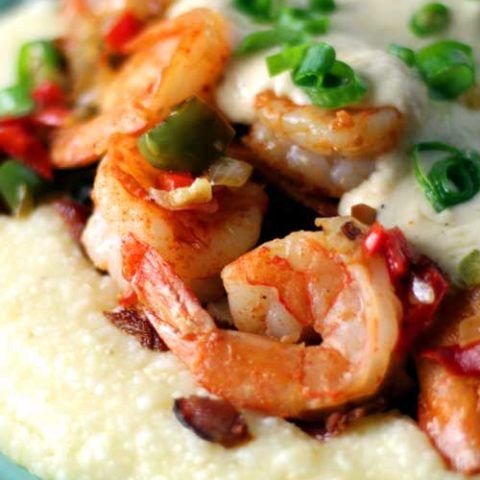 Shrimp and Grits
Yield: 4-6 Servings

Prep Time: 25 minutes

Cook Time: 1 hour

Total Time: 1 hour 25 minutes

Yummmmalicious! Absolutely rich and delicious, this Shrimp and Grits recipe is right up there with many of the great restaurants in the Lowcountry!
Ingredients
1 cup coarsely ground grits (not instant)
3 cups water
2 cups half and half
2 teaspoons salt
2 pounds uncooked shrimp, peeled and deveined
salt and pepper to taste
1 pinch cayenne pepper (or a few dashes of extra cayenne if you like it extra spicy)
1 pound andouille sausage, cut into 1/4-inch slices
5 slices bacon or 1/4 lb Cajun Tasso Ham cut into 1/4-inch slices
1 red bell pepper, chopped
1 yellow or orange or green bell pepper, chopped
1 cup chopped onion
1 teaspoon minced garlic
3 tablespoons white wine (nice splash to deglaze pan)
1/4 cup butter
1/4 cup all-purpose flour
1 cup chicken broth
1 tablespoon Worcestershire sauce
2 tablespoons Louisiana Hot Sauce
1 cup shredded sharp Cheddar cheese
green onions for garnish
squeeze of lemon if you like for the shrimp (optional)
Instructions
Bring water, grits, and salt to a boil in a heavy saucepan with a lid. Stir in half-and-half and simmer until grits are thickened and tender, 15 to 20 minutes. Set aside and keep warm.
Sprinkle shrimp with salt and cayenne pepper. Set aside in a bowl.
Place andouille sausage slices in a large skillet over medium heat. Fry sausage until browned, 5 to 8 minutes. Remove skillet from heat.
Cook bacon or Tasso in a large skillet over medium-high heat, turning occasionally, until evenly browned, about 10 minutes. Retain drippings in skillet. Transfer slices to paper towels.
Cook and stir red, and yellow bell peppers, onion, and garlic in the bacon drippings until the onion is translucent, about 8 minutes. Remove to a plate.
In the same skillet deglaze with white wine and cook shrimp 2-3 minutes. until the shrimp becomes pink. Remove to another plate.
Melt butter in the same skillet over medium heat; to make a roux stirring for five minutes to incorporate.. Turn heat to low and cook, stirring constantly, until the mixture is light brown in color. Watch carefully, mixture burns easily.
Pour in chicken broth, Louisiana Hot Sauce, Worcestershire Sauce, cooking and stirring until the sauce thickens, a couple minutes. If you feel like it's too thick you can add a little cream or milk.
Just before serving, mix sharp Cheddar cheese into grits until melted and grits are creamy and light yellow. Plate grits on the bottom, andouille sausage and veggies over that with gravy and shrimp topping it all off and garnish with green onions.
Nutrition Information
Yield 6 Serving Size 1
Amount Per Serving Calories 835Total Fat 57gSaturated Fat 27gTrans Fat 1gUnsaturated Fat 24gCholesterol 347mgSodium 3259mgCarbohydrates 28gFiber 2gSugar 11gProtein 52g

Nutrition data was provided and calculated by Nutritionix, and should only be used as a general guideline. This information is provided as a courtesy and there is no guarantee that the information will be completely accurate.

© 2023 Sparkles of Yum. All rights reserved. All images & content are copyright protected. Please do not use my images without prior permission. If you want to share this recipe, please provide a link back to this post for the original recipe.
Sparkles of Yum is a participant in the Amazon Services LLC Associates Program, an affiliate advertising program designed to provide a means for sites to earn advertising fees by advertising and linking to Amazon.com.