TA DA!! Between the deep, smoky, sweet flavors from the bourbon to the fragrance of the warm spices caramelizing on the ham; it's hard not to pick pieces off of this Southern Honey Bourbon Glazed Ham before it's ready to hit the table.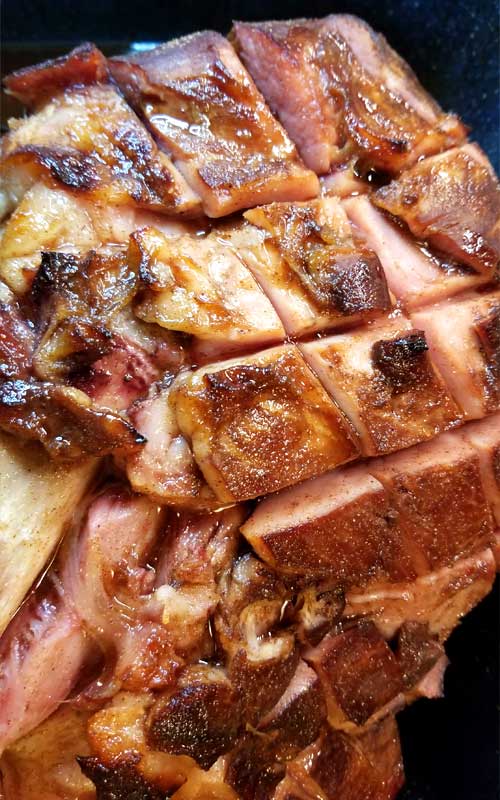 Do you love the "Ta Da" moment when you get to bring out the beautiful, long awaited centerpiece for the holiday dinner? I know I do. You want it to be picture perfect!
A lot of preparation and planning goes into making it a special day. Well, I don't have to cook this year, but how could we not have all the yummy leftovers if we don't have our own ham? That's not happening!
So we decided to make our own big fat ham anyway. I have said it before, and I will say it yet again, I can't pass up a good sale. Haven't seen prices this good in ages. A bone-in half ham for 79 cents a pound, that is a deal that is too good to pass up. Think you can't get a good ham that cheap, well think again. I'm loving using the Flip app, you can check all your local sale ads and just search for what you need, pretty handy.
So I thought this was a good time to try something different, because for special holidays I always make this pretty Holiday Glazed Ham, which we love.
Since we were in the mood to try something we've never had before, we decided to see what a Southern Honey Bourbon Glazed Ham would taste like. The barrel aged bourbon brings a deep, smoky, sweet flavor. Then there is the fragrance of the warm spices all caramelizing on the ham. It took all I had in order to not start picking pieces off when it came to basting this ham, really hard because it smells so good.
But when you finally get to taste it, well it is well worth the wait and you'll want to go for the biggest ham. Also, having a nice size roasting pan and adjustable roasting rack will make your life so much easier, it's well worth it for transferring your roast, ham or turkey from the pan to the table for your holiday meals.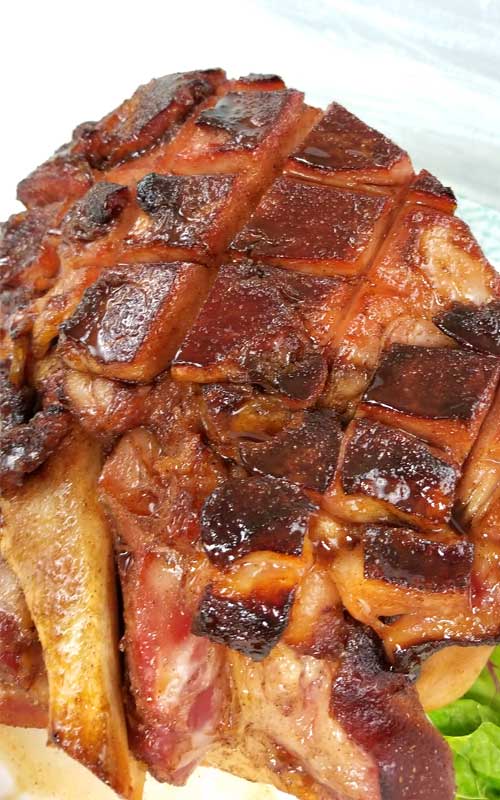 If you LOVE this Southern Honey Bourbon Glazed Ham recipe, you may also love this Glazed Holiday Ham recipe as well!
Don't forget to follow along, so you don't miss out! Did you know you can get a notification on your phone now as soon something is published? People are loving this so much, more than the emails clogging up your inbox. If you happened to not accept the notification box earlier…now is a good time to click the small bell in the corner and get signed up!
FOLLOW Sparkles of Yum ON FACEBOOK | PINTEREST | INSTAGRAM | TWITTER FOR ALL OF THE LATEST CONTENT, RECIPES AND UPDATES.
Feel free to join the Sparkles of Yum Recipe Swap Facebook group! A fun place to find and share all of your favorite recipes.
Southern Honey Bourbon Glazed Ham
Yield: About 20 servings

Prep Time: 10 minutes

Cook Time: 3 hours

Inactive Time: 20 minutes

Total Time: 3 hours 30 minutes

TA DA!! Between the deep, smoky, sweet flavors from the bourbon to the fragrance of the warm spices caramelizing on the ham; it's hard not to pick pieces off of this Southern Honey Bourbon Glazed Ham before it's ready to hit the table.
Ingredients
9-12 pound bone-in ham (ours was 12)
1/2 cup honey
1/2 cup bourbon
1/2 brown sugar
1 teaspoon onion powder
1 teaspoon cinnamon
1 teaspoon paprika
1/2 teaspoon nutmeg
1/2 teaspoon allspice
1/2 teaspoon ginger
1 1/2 cup water in the bottom of the pan (enough for about 1/4 inch)
Instructions
Preheat oven to 350 degrees. (I start the oven warmer because the ham is still cold)
Mix all dry ingredients in a bowl, add honey and bourbon and stir well, you don't have to heat anything up it will caramelize while baking.
Score ham only about 1/8 inch deep in a criss cross pattern (it will spread open more as it cooks).
Baste and cover well with foil, turn oven down to 325, baste once an hour. Ours was done in 3 hours. Cooking instructions will be on your ham ours was 15 minutes per pound at 325.
The last half hour remove foil to finish browning, and let rest 15 to 20 minutes before carving
Nutrition Information
Yield 20 Serving Size About 8 oz.
Amount Per Serving Calories 416Total Fat 14gSaturated Fat 3gTrans Fat 0gUnsaturated Fat 7gCholesterol 174mgSodium 2660mgCarbohydrates 10gFiber 0gSugar 10gProtein 60g

Nutrition data was provided and calculated by Nutritionix, and should only be used as a general guideline. This information is provided as a courtesy and there is no guarantee that the information will be completely accurate.

This recipe was slightly adapted from the fabulousness of How to Feed a Loon
© 2023 Sparkles of Yum. All rights reserved. All images & content are copyright protected. Please do not use my images without prior permission. If you want to share this recipe, please provide a link back to this post for the original recipe.
Sparkles of Yum is a participant in the Amazon Services LLC Associates Program, an affiliate advertising program designed to provide a means for sites to earn advertising fees by advertising and linking to Amazon.com.