Some kind of magic occurs when you bring all of these wonderful flavors together! When combined, and with a little time, they make the most tender and juicy Slow Cooker Philly Cheesesteak Sandwiches you will ever have!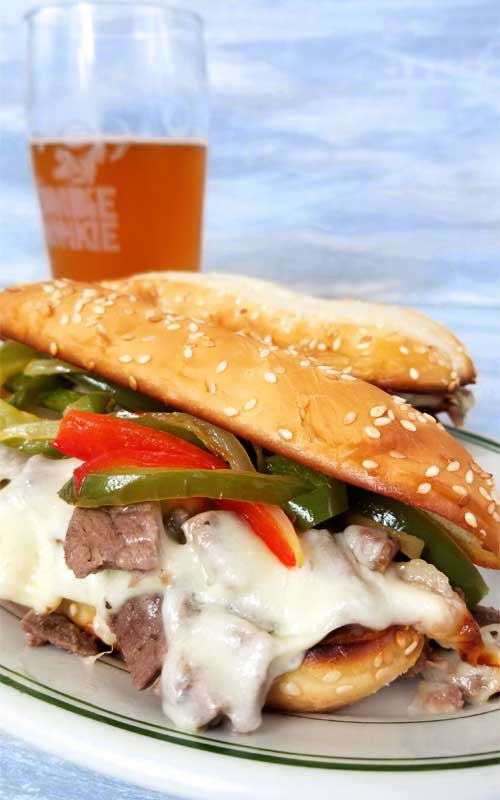 Well I didn't go vegan this week, doesn't look like that's happening anywhere in the near future, just kidding, probably more like never. I don't think any vegans will be looking at this recipe so I'm not going to hurt their feelings.
You know this is what they really want, they keep coming up with some crazy "beyond meat" terms like the new "Vegan Bleeding Burger"? Really people?
If I could grow a cow in backyard, I would, but smooshing some black beans or in this case peas and beets into a burger just doesn't cut it, sorry. There is no comparison to sinking your teeth into real meat.
I like peas and beets, I eat those on the side. I'm not judging, maybe they'll live to be 140 years old, I'll never know. Maybe they'll cure world hunger in the process, that would be a great thing!
So I'll just go back to minding my own business now and enjoy my Philly Cheesesteak Sandwich and if you're a carnivore too, then we've got something in common because this turned out so tender and juicy.
Some kind of magic occurs when you bring all of these wonderful flavors together! There's no reason to search Yelp for a good cheesesteak anymore, unless you live in Philly then I'm sure you know where to go.
We used to buy Steak-umms when we wanted to make these at home, but for the price of those now you can practically buy a roast and then you can control the sodium yourself and these are so much better.
We have Philly Cheesesteak sandwiches in restaurants all over town too, but not this good. You can pile as much meat as you want when you make them in the comfort of your own home, and when you make it in the crockpot it couldn't be any easier.
Plus your house smells so good all day, and your dogs walk around with their noses in the air. If you have dogs you know your getting the sadddest puppy dog eyes. Like you haven't fed them in days.
We've been lucky enough to have some really good sales lately on roasts, like a buy one get one free. So we've had Mississippi Pot Roast, Yankee Pot Roast, and Italian Roast Beef Sandwiches; all really good!
For this I happened to have a bottom round roast, it doesn't matter what kind of roast you use in the crock pot as long as they're seasoned good. I didn't put the bell peppers in the crockpot though, you can do that if you really want to.
I wouldn't add them until the last hour though. I didn't want them to turn to mush. I did slice an onion and put the roast on top of that, it adds to the flavor and keeps the meat off the bottom. The onion also helps the meat cook more evenly, and actually makes clean up easier.
So if you're thinking of turning vegan, just wait till after you have this sandwich, you can thank me later!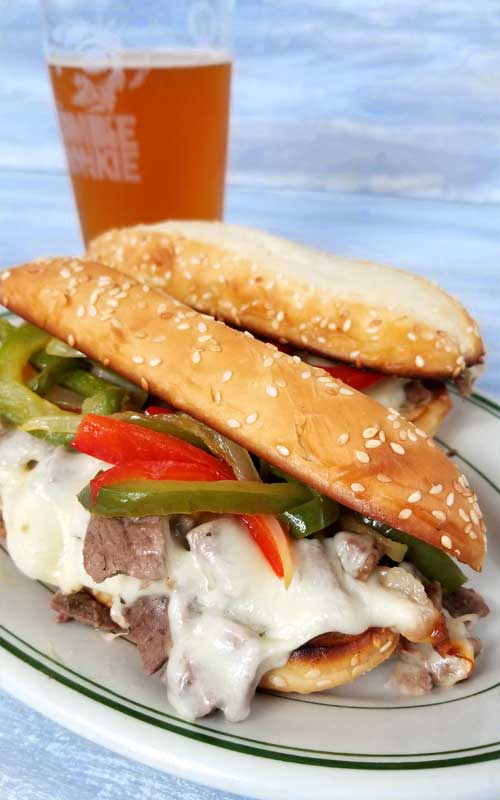 Don't forget to follow along, so you don't miss out! Did you know you can get a notification on your phone now as soon something is published? People are loving this so much, more than the emails clogging up your inbox. If you happened to not accept the notification box earlier…now is a good time to click the small bell in the corner and get signed up!
FOLLOW Sparkles of Yum ON FACEBOOK | PINTEREST | INSTAGRAM | TWITTER FOR ALL OF THE LATEST CONTENT, RECIPES AND UPDATES.
Feel free to join the Sparkles of Yum Recipe Swap Facebook group! A fun place to find and share all of your favorite recipes.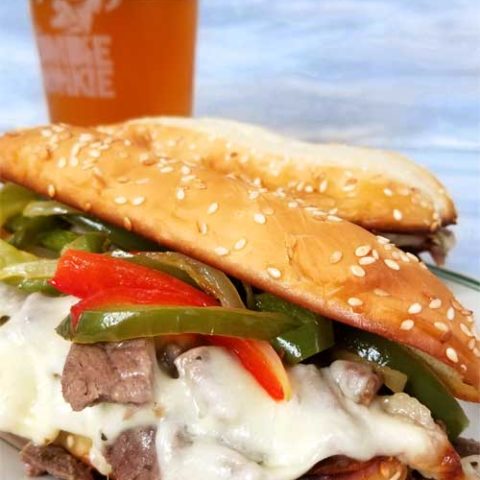 Slow Cooker Philly Cheesesteak
Yield: 4-6 servings

Prep Time: 30 minutes

Cook Time: 6 hours

Total Time: 6 hours 30 minutes

Some kind of magic occurs when you bring all of these wonderful flavors together! When combined, and with a little time, they make the most tender and juicy Slow Cooker Philly Cheesesteak Sandwiches you will ever have!
Ingredients
2-3 lb roast (I used a bottom round)
2 cups beef broth (I used low sodium)
2 onions
2 bell peppers (I used 1 red 1 green)
1 Tablespoon Italian seasoning
1 Teaspoon granulated garlic
Salt and fresh cracked pepper
Package of French rolls or hoagie rolls
Package of Provolone Cheese
4 tablespoons butter for toasting buns
Instructions
Slice one onion in 1/2 inch slices and place in the bottom of the slow cooker.
Pour broth over the onions, sprinkle half seasonings in the broth and stir. Season roast with the rest of Italian seasoning, garlic, salt and pepper.
Cook on low for 5-6 hours or until meat is tender. Remove and let cool a bit and slice thin and cut into bite size pieces
Preheat oven to 400F.
Using a large skillet, slice bell peppers and remaining onion and cook on medium with a little butter or olive oil until just tender and onion is translucent, set aside.
In the same skillet add a tablespoon of butter at a time to toast open rolls for a couple minutes until slightly crusty, set aside.
Using a sheet pan covered with foil or parchment paper (and sprayed with non-stick spray) stack meat, and cheese in bun size stacks just till cheese is melted about 5 minutes. Arrange meat and cheese on toasted buns, and top with peppers and onions using tongs.
Nutrition Information
Yield 6 Serving Size 1
Amount Per Serving Calories 1687Total Fat 107gSaturated Fat 46gTrans Fat 0gUnsaturated Fat 48gCholesterol 593mgSodium 1206mgCarbohydrates 22gFiber 2gSugar 4gProtein 151g

Nutrition data was provided and calculated by Nutritionix, and should only be used as a general guideline. This information is provided as a courtesy and there is no guarantee that the information will be completely accurate.

© 2023 Sparkles of Yum. All rights reserved. All images & content are copyright protected. Please do not use my images without prior permission. If you want to share this recipe, please provide a link back to this post for the original recipe.
Sparkles of Yum is a participant in the Amazon Services LLC Associates Program, an affiliate advertising program designed to provide a means for sites to earn advertising fees by advertising and linking to Amazon.com.