Looking for an awesome brunch recipe? Not only is this Asparagus and Prosciutto Frittata delicious. It is also quick, easy, and fun to make.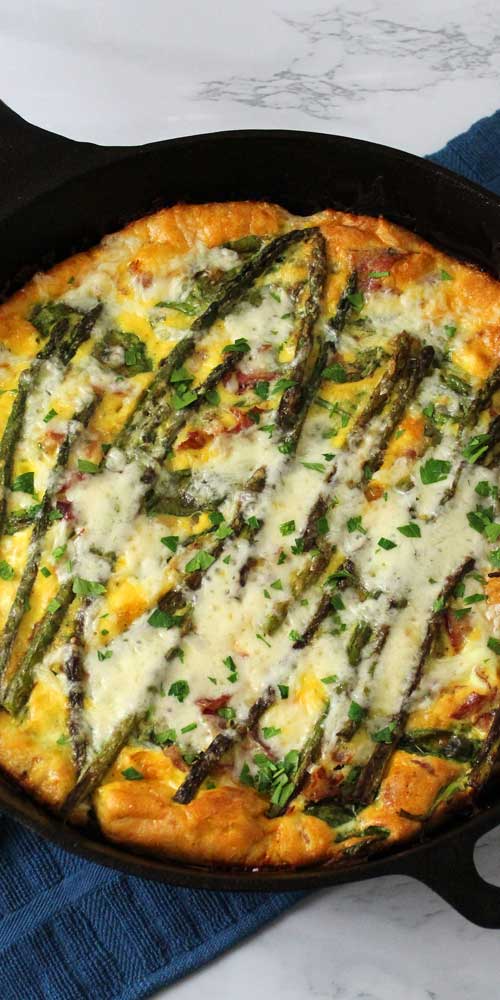 Frittatas are perfect for using up leftovers. This Asparagus and Prosciutto Frittata was tossed together from a leftover Charcuterie board we had for a family get together, and there was no way I was going to let Prosciutto go to waste.
We paid good money for that and I was taught waste not, want not. That's what we've tossed together for an awesome breakfast, which also would have been perfect as breakfast for dinner time.
Whatever you have on hand can replace the Prosciutto; ham, bacon or just more veggies for that matter. They're so fun to make, so easy, and so quick, but most important is that they taste amazing. That's what we've tossed together for an awesome breakfast or even breakfast for dinner time.
There's just something about cooking in cast iron that makes taste even better. I used to be afraid to use the cast iron on my glass top.
Then, I found out if I'm just careful not to slide it around and be a little gentle setting down, it's fine to use on a glass top stove once in a while. Especially if making something you need to finish off in the oven, it's perfect because you can't put your most non-stick in the oven above 350 unless you have a really good All-Clad that is.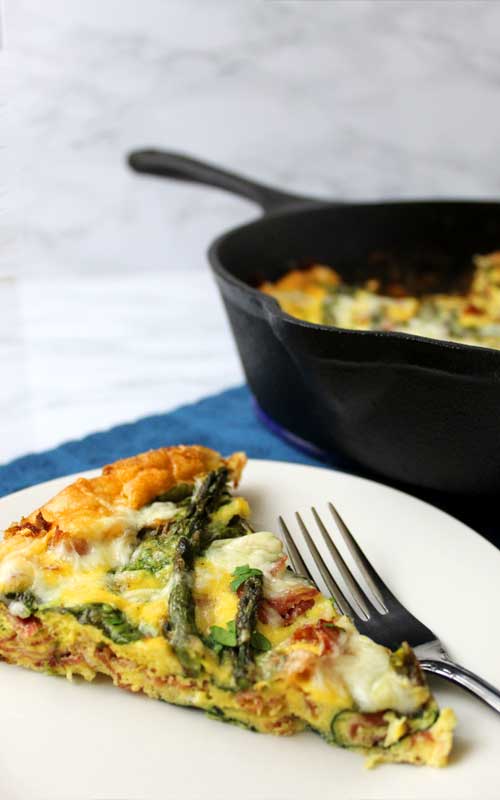 Some tips:
If you LOVE this Asparagus and Prosciutto Frittata recipe, try this Loaded Denver Omelet Muffins OR this Country Sausage Gravy Breakfast Pizza!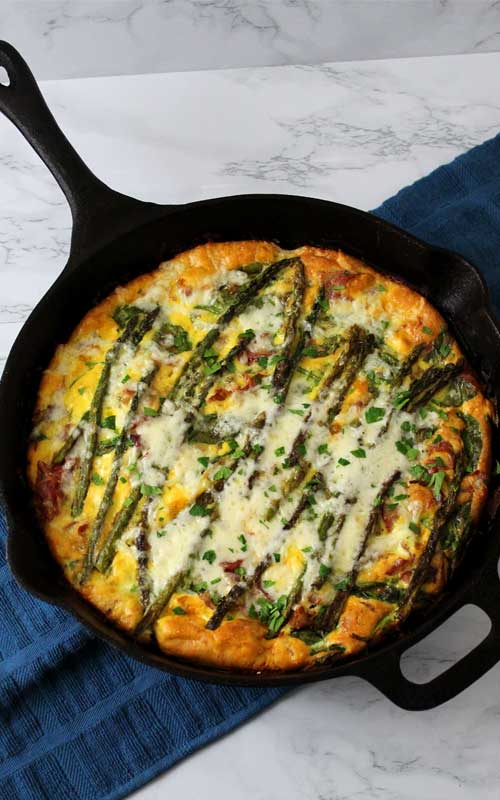 Don't forget to follow along, so you don't miss out! Did you know you can get a notification on your phone now as soon something is published? People are loving this so much, more than the emails clogging up your inbox. If you happened to not accept the notification box earlier…now is a good time to click the small bell in the corner and get signed up!
FOLLOW Sparkles of Yum ON FACEBOOK | PINTEREST | INSTAGRAM | TWITTER FOR ALL OF THE LATEST CONTENT, RECIPES AND UPDATES.
Feel free to join the Sparkles of Yum Recipe Swap Facebook group! A fun place to find and share all of your favorite recipes.
Asparagus and Prosciutto Frittata
Yield: 8 Servings

Prep Time: 10 minutes

Cook Time: 25 minutes

Total Time: 35 minutes

Looking for an awesome brunch recipe? Not only is this Asparagus and Prosciutto Frittata delicious. It is also quick, easy, and fun to make.
Ingredients
2 Tbsp. olive oil
10 large or extra large eggs
salt and fresh cracked pepper
1/2 cup milk
1 bunch thin asparagus spears (snap off the tough ends of your asparagus and rinse)
1 handful fresh baby spinach
1 cup thinly sliced prosciutto, chopped to bite size
1/2 cup Mozzarella (or Provolone)
2 Tablespoons Parmesan Cheese (I used fresh shaved Parmesan)
2 Tablespoons chopped flat leaf parsley
Instructions
Preheat the oven to 400° In a large oven safe skillet (I used cast iron) over medium heat and add 2 tablespoons olive oil. Let it heat fully and add the asparagus, saute until just tender, about 2-3 minutes, remove to a plate and add the prosciutto to heat about a minute and remove from skillet.
In a bowl add eggs, milk salt and pepper whisk well and pour egg mixture and spinach into the skillet, scatter prosciutto around. As egg mixture sets, run a spatula around edges of skillet, lifting egg mixture and tilt the skillet so the uncooked portion flows underneath. Continue cooking and lifting edges until egg mixture is almost set. (surface will be moist).
Once eggs are set up, but the top is still moist, toss asparagus on top, add shaved Parmesan and Mozzarella and place in the oven to finish about 10-15 minutes, until the center is cooked. Top with parsley and serve.
Nutrition Information
Yield 8 Serving Size 1
Amount Per Serving Calories 212Total Fat 14gSaturated Fat 5gTrans Fat 0gUnsaturated Fat 8gCholesterol 260mgSodium 1009mgCarbohydrates 2gFiber 0gSugar 0gProtein 19g

Nutrition data was provided and calculated by Nutritionix, and should only be used as a general guideline. This information is provided as a courtesy and there is no guarantee that the information will be completely accurate.

© 2019 Sparkles of Yum. All rights reserved. All images & content are copyright protected. Please do not use my images without prior permission. If you want to share this recipe, please provide a link back to this post for the original recipe.
Sparkles of Yum is a participant in the Amazon Services LLC Associates Program, an affiliate advertising program designed to provide a means for sites to earn advertising fees by advertising and linking to Amazon.com.